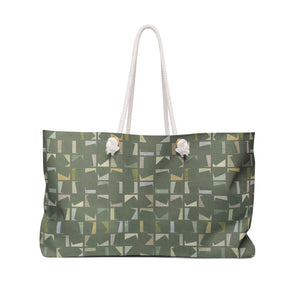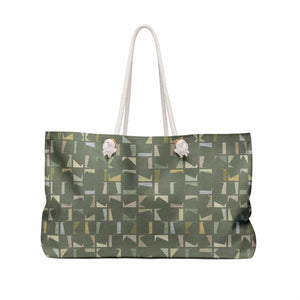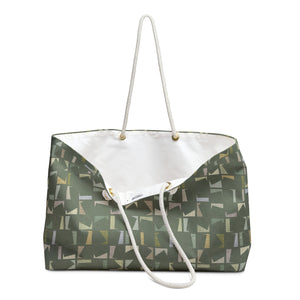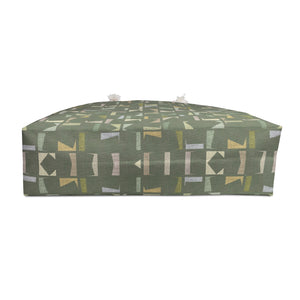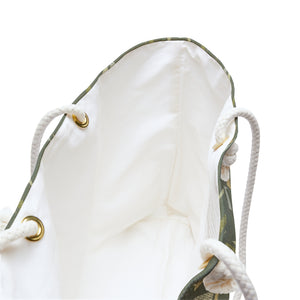 Playful Code Weekender Bag in Green
Description:
This weekender bag is part of our Cryptology Collection with a design focused on health and wellness. The geometric pattern is actually a code created by Kristen Dettoni. When decoded the message reveals "Life is a balance of holding on and letting go".
Our oversized weekender bag is perfect for a day at the beach or a night in town. The wide-mouthed durable bag holds a generous amount of personal items and is easily held by thick rope handles. This bag is open at the top, so there is no struggling with a zipper when looking for an item.
·        100% Polyester
·        50% Polyester / 50% Cotton cream colored lining
·        27" long cream-colored rope handles through gold metal grommets.
Dimensions:  24"x13"x5"
Care Instructions:
Dry or spot clean only. Before cleaning the bag, remove all the items from the bag. It is suggested to pretreat visible stains with a stain remover by mixing warm water with laundry detergent and clean the bag with a terry washcloth or very soft bristle brush. Let the bag air dry.
Custom Made Just for You:
Our products are all custom-made to order.  Unfortunately, returns and exchanges are not supported if you just simply change your mind.  However, if the item is broken or flawed, we will gladly replace it.  Check out our Returns and Exchange Policy for more details.
---